Since it's the last Monday in May, today is Memorial Day which is an important American holiday for many reasons. First and foremost, Memorial Day is a tribute to the brave soldiers who've perished while serving in our Armed Forces. Another way of looking at it is as the only holiday in a 3 month period where I don't have to get Mrs. Dude a gift.
Don't get me wrong, my wife is amazing and totally deserving of every kind of gift, card and cake that you can think of. If I had the means I would get her everything she wanted plus things she didn't even know she wanted, like a gold-plated toothbrush. Or a night off. But that isn't an easy task from May through July every year. (Side note: If enough of you read this, think it's wonderful AND tell friends who are TV producers and/or book editors, that might happen sooner than later.)
What's the issue? I pay tribute to my superlative wife on the second Sunday in May for Mother's Day. Then a mere three weeks later (give or take, depending on the year) is Mrs. Dude's birthday. Again, gifts and cake are mandatory. The former for her, latter for both of us. Then a little over a month later is our wedding anniversary. Each year a more elaborate gift is customary, per
some old list
made by people who thought that people wanted gifts made of paper, iron or wool.
I want to make it clear: these are all great occasions that I am fortunate to celebrate. I just wish they were spaced out 2-3 months apart. Ideally an April/July/October schedule, if you know anyone who can help me reconfigure our family calendar. Like Doc Brown.
So what's the bigger issue? I will be the first to admit that I am not a great gift shopper. I always tell myself that I should start looking weeks in advance, then never do and scramble at the last moment to put something together. There must be some deep psychological reason for my procrastination, but I will have to figure it out later.
It's a challenging situation that I face. Possibly even a lose-lose situation as Michael Scott is fond of. Is one of these three days more important than the other or are they all equal? Mother's Day rewards her for the hard work she's done on a daily basis for 2 ½ years. But our anniversary rewards her for the hard work she's done on a daily basis for the last (almost) 5 years. I must give my wife a lot of credit. Dealing with babies is not easy. And neither is raising children.
I'd have to guess that the birthday is the least important. While it's nice to be celebrated, no woman I know over the age of 21 wants the actual reminder that she is a year older. Then again, from my experience, they don't usually seem to mind the cake so much.
Another twist in this whole scenario is the Little Dude. He's fantastic, but also a sponge financially. He rarely picks up the tab when we go out to eat and never pays for gifts. Even when he makes homemade cards for his mother, I have to do all the writing.
So what should I do if I have limited funds and want to make sure Mrs. Dude gets the most special recognition that she truly deserves? We all know the old saying "it's the thought that counts", so if I merely think about getting her really nice gifts, will that be sufficient? I'm 1/3 of the way through this year's triumvirate. My Mother's Day earned decent reviews, with bonus points for fresh bagels and flowers, but now I have to top that and only have a few days to spare. Can you spot me a Benjamin?
What would you do if you were me?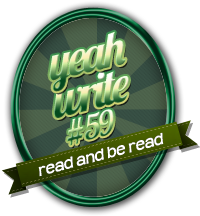 I'm linking up with the Yeah Writers again.
Go check out some great writers and vote for your faves.