It began with a kiss as she walked out the door. That wonderful moment was just the beginning of my great unknown. As Mrs. Dude departed on Friday afternoon for a friend's overnight bachelorette party in wine country, I was hoping that I was not headed for 24 hours in whine country.
Even though the Little Dude is 2+ years old and I have spent a considerable amount of time with him by myself, this was something new. I had never had him for 24 hours solo before. And likewise, he had never had 24 hours with just me. Or as he would likely view it, without his mother.
Though certainly not frequently, I have spent an occasional few days away from home over the last 2+ years. My wife is a pro and can handle the Little Dude in any situation. She's flown cross-country with him. She's driven him up and down the state of California. She's even waited in line at the DMV with him, and that's not easy.
She put him down for his nap that day, as she usually does. When he woke up she wasn't there, but that's not unusual since I usually have him post-nap through bedtime most nights during the week while Mrs. Dude is working.
At first I wanted to come up with a plan. Then I realized that planning for toddlers rarely works. So I came up with a few ideas and knew I'd have to be flexible. I've learned from watching my wife operate so smoothly on the fly that flexibility is the key. She easily handles unexpected detours, no matter the situation. One thing I wanted to avoid was discussing "Mama" with him. Her absence was not a secret, as she'd told him that she was going away, but didn't need to be emphasized either.
That night, I figured I'd butter him up to get on his good side. Literally. I made his favorite dinner of Kraft Mac and Cheese. When it's fresh, he can eat enough to make Kobayashi look like a Weight Watcher. His eyes smiled eagerly as I brought out the giant bowl of "Freshie Roni". We ate it side-by-side and even though he rejected the broccoli I served, he managed to find room for the cookies I gave him for dessert.
We got through the rest of the usual evening routine with no problem. Of course it was really the next day I was worried about, when he woke up and Mama wasn't there for the first time. Was it too late to hire an understudy?
He woke up at 7:00am on Saturday and I went to grab him from his crib. T-minus 12 hours or so until the most anticipated return since the Jedi. We played in his room for a few minutes and when I went to change his diaper, he said "See Mama Again!" Sigh. My luck ended faster than that ironically-named TV show Luck that was just canceled after the horses kept dying. I reminded him that Mama was out with her friends and would be back soon. Soon being a relative term.
Suddenly, a great idea hit me like a stomachache after eating at McDonalds. Like much in life, whether the product is good or not, it's the branding and marketing that make things successful. I told him that that day was just going to be me and him hanging out and dubbed it "Dudes' Day". The initial response was very positive, since he repeated "Dudes' Day" 50 times after that. Word of mouth was developing…but would it sustain?
We took the dog for a walk, made breakfast and then the pressure to come up with a new plan was on. It was pouring outside. The kind of rain that Seattleites laugh at, but Angelenos balk at. Since I'm originally from Ohio, I knew we had to press on.
We bundled up and headed to our weekly local Farmers' Market. I knew he would enjoy the bright colors and people-watching, or at least all the free fruit samples. After making a loop, and the piecemeal equivalent of a giant fruit salad, we headed down the street to a local "Spring Festival", aka Easter Bunny fest. We don't celebrate Easter, but we had a brief brush with fame after meeting the infamous Bunny:
Yes, that is really us pictured in our local newspaper with the aforementioned Bunny
We grabbed lunch at a nearby cafe, and destroyed our table like the rockstars we are. We went home and he crashed after a long morning of cruising the streets of our fair city. I expected the Mrs. to be home when he woke up, so I figured I'd made it through! Until she told me she was going to stay with her friends for dinner. Now what?
I figured our Dudes' Day finale should be what every good-time person does on a Saturday night, so we went to IHOP.
Since I'd recently discovered his fondness for their pancakes,
I knew it would be a hit. And as we finished our dinner, we received a surprise at the restaurant. Mrs. Dude got dropped off at IHOP by her friend on their way back into town and we all rode home together. A successful solo mission / Inaugural Dudes' Day was now history.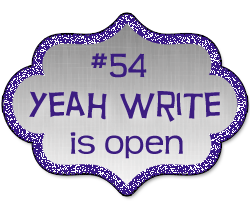 I'm once again linking up with the great Yeah Write community.
Come check out some great writers and vote for your favorites on Thursday.