At the recent birthday party of one of the Little Dude's friends, I learned that some kids are just pure evil. And I didn't know how to handle it.
Like the majority of parties we've gone to over the last few years this one was at an "indoor play place". If you are a parent of young kids, you probably know the type: a very brightly fluorescent lit room filled with primary colors and runny-nosed kids. And some toys.
Some kids are better sharers than others. My Little Dude happens to be an excellent sharer and I'm not just saying that because he's my kid. In the interest of full disclosure, my son is a Thomas the Train addict and every time he goes to a place with a train table, he usually spends the majority of his time there. He likes to carry the trains around as he checks out the table, sometimes six or eight trains at a time. But whenever another kid comes to play, he shares what he's holding.


At this particular party, after the requisite cheese pizza and sheet-cake, the kids had free play time. The Little Dude spotted a Razor-type scooter and was enamored by it, despite never having been on one before. I watched him as he watched some of the older kids riding and knew he wanted to try it out.


He followed one boy who rode the scooter to the back of the playroom. The boy stepped off the scooter and laid it on the ground nearby as he went to play air hockey with another kid. Clearly he was moving on to something else, as kids tend to do frequently at places like this that offer myriad opportunities for play. The Little Dude spotted the scooter on the ground from about 25 feet away and eagerly started running toward it. As he was getting close, the other boy noticed him, turned around and stuck his leg out. My Little Dude crashed to the carpet.
The boy, who was at least double my son's age, looked proud of himself. "Ha, I tricked that little kid", his face screamed. Until he noticed me watching. I ran to my son, who was shaken up and confused. Probably more shocked by his fall than anything, he was clearly upset. At 2 ½ he was too young to verbalize what he was thinking, but the sadness on his face which had radiated pure excitement 20 seconds earlier was heartbreaking.
I turned to the boy and asked him why he did that. He had no response. After a few carefully chosen words from me, which he shrugged off, he turned back to his air hockey game. We took the scooter and headed in the other direction. I was baffled. I'd seen kids play rough before, but never so blatantly toward my kid.
The tricky part of the situation was that I know Evil Boy's parents. Not well at all, but extremely casually. I don't know them well enough to know whether this was his usual behavior or an isolated incident. I looked around and saw the parents on the other side of the room, not watching what any of their kids were doing. I made sure my son was OK and as expected, within a couple minutes he lost interest in the scooter and headed back to see Thomas, Percy and company. He was over the incident. I was not.
I was faced with the dilemma of whether or not to say something to the obviously inattentive parents. I didn't want to cause a scene at someone else's party, but the reality was, their kid acted like an A-hole. They needed to know.
I debated various ways of broaching the subject with the parents. A few times I saw Evil Boy cross my path. Each time, I gave him a very stern look. And each time, I saw a nervous look on his face before he took off in the opposite direction. If the kid and his family were strangers, it might have been easier. But they weren't.
For half an hour, my mind raced. Would my confronting the parents lead to further confrontation? I knew that I didn't want to cause a problem, but I was unhappy and they needed to know so that other kids wouldn't fall victim to their son the bully.
As I debated internally, I watched my son playing with the trains. He had a chain of 3 going up and down bridges along the tracks & smiled each time they cruised down the hill. If he was already over it, maybe I should be too. I decided to not tell the parents. Hopefully karma will someday.
What would you have done if you were in my position?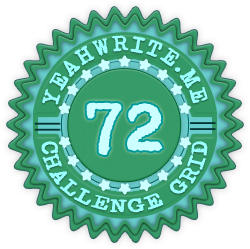 I'm hanging with the Yeah Write crew again this week.
Come check out some great writers and vote for your favorites on Thursday.